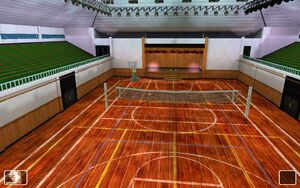 The Gym also reffered to as "Lecture Hall" or "Auditorium"(Loose translation) is a large hall in Yeondu High School used for Gymnasium and Sport classes as well as big events such as celebrations and lectures, It's connected with the Main building, Section 1 and New building of the school.
History
This building was initially only connected to the Main Building when it was first belt, but after the New Building was made, it was attached to that building as well.
In 2001, after Choi Eun-mi causes a fire outburst, the Lee Hui-min is forced to extinguish the fires in the Auditorium, although the whole place was badly damaged afterwards due to the fires.
Floors
1st Floor
The 1st Floor has a main facility.
2nd Floor
The 2nd Floor is mainly Stands.
Items
Gallery
Community content is available under
CC-BY-SA
unless otherwise noted.